TO VIEW THE ONLINE AVAILABILITY CALENDAR
BOOK YOUR STAY AT EARL GREY LODGE
Bed & Breakfast – Free WIFI
Earl Grey Lodge is the only custom built pet friendly (direct bookings only) small hotel at Panorama Mountain Resort. The lodge provides a chalet style experience with breakfast provided. The lodge is approximately 8000 square foot with several secluded decks and a separate CABIN which is attached to the main lodge and provides  2 bedroom (sleeps 6) private accommodation with fully equipped kitchen and large entertainment area. The property has been fully interior designed to maintain the rustic log walls with an art deco interior feel and modern Canadian trapper feeling. Below you will find a description of the rooms.
Panorama is the ideal place to bring your family year after year. Park your car for the week and meander through the village to the ski hill (1 minute away) or relax in the lodge or apartment. Greywolf championship golf course is situated a short drive from the main village and about a 15 minute walk on the Valley Trail. The ski hill is on your doorstep, you can ski to the lodge, but watch your skis! Room Tip: book your room early as they frequently sell out during the height of ski season.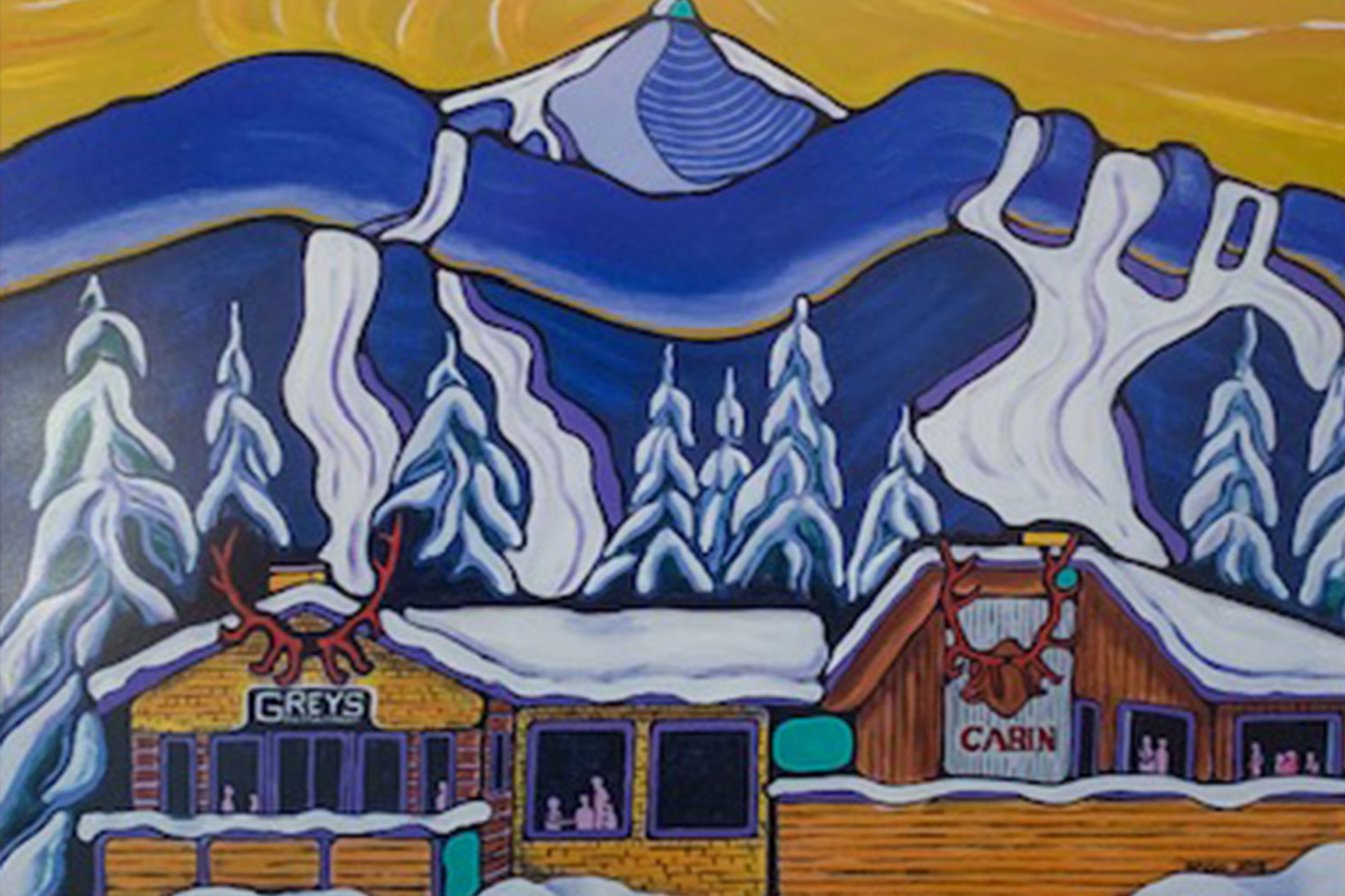 Best place to stay in Panorama !!!
One of the nicest B&B we have ever stayed at. Phil and Clare are very friendly and hospitable and always available to answer any questions. Phil gave us a full orientation of the amenities when we arrived. We had a split king room with separate sitting area. The bed and pillows were very comfortable and the linens were of a very good quality. The bathroom is stocked with Rocky Mountain Soap Company products, which were lovely. We enjoyed the continental breakfast each morning before going out skiing for the day. The lifts are only a short walk away from Earl Grey which was very convenient. We took advantage of the hot tub and sauna after a day of skiing. This B&B shows a real pride of ownership by Phil and Clare. We hope to have a return visit sometime in the future.
Review February 2023
The lodge is entered via a large custom built bevel glazed front door which makes the light from inside dance through the glass, inviting you into the slate paved entrance vestibule with antique Welsh pews. In winter all outside footwear is left on this level so slippers are advised for your stay. Access to each individual bedroom and the guest kitchen is off of this area. An impressive central oak staircase with art deco chandelier and 'Red Velvet' carpet leads you up to the breakfast area and cut through to the CABIN.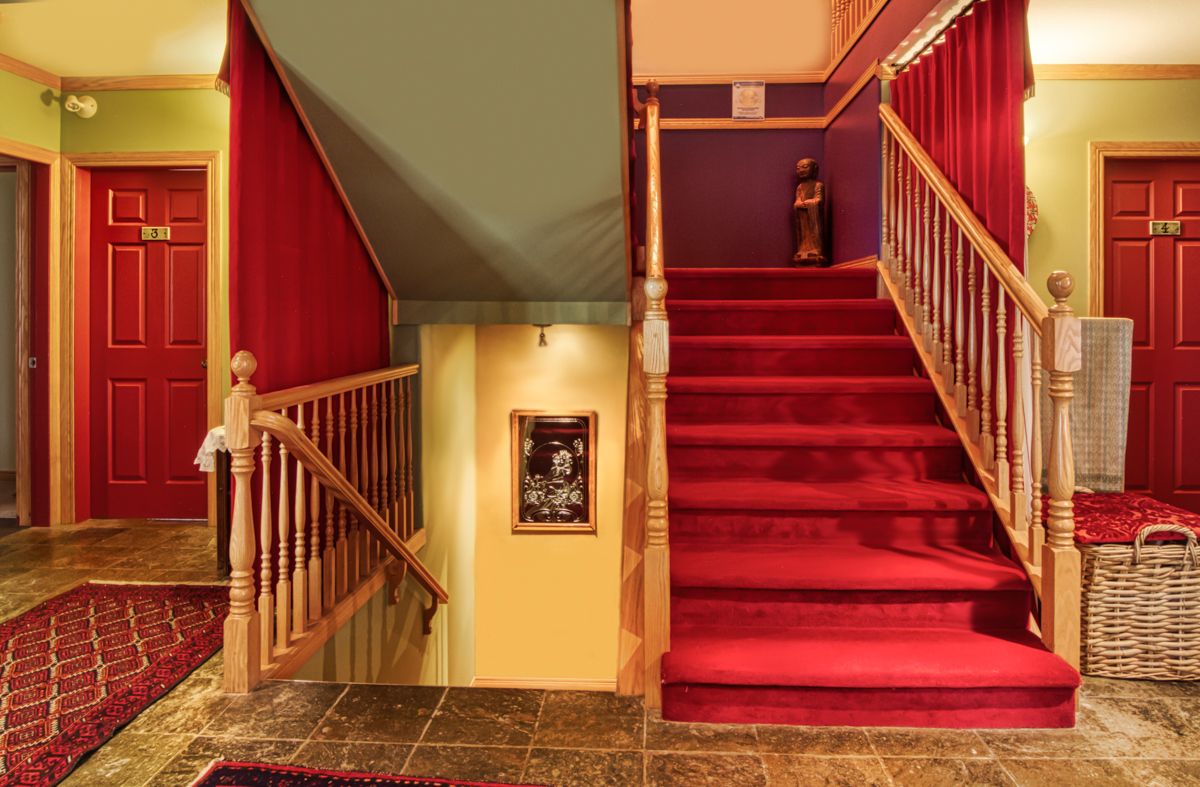 The bedrooms have been designed to blend the rustic log walls with modern luxury bathrooms. All rooms have a private bathroom with shower, bath, granite and oak vanity with well-lit mirror and magnification mirror, hairdryers and heated tiled floors. The bedrooms provide versatile accommodation for friends sharing, couples and families. The lodge can sleep 12 adults and 5 children under 14. Lodge rooms are individually priced for 2 people, additional children/cot are charged at $25.00/night for bed and breakfast). The lodge has free WiFi for guests and is pet friendly to direct booking, we do not take pets on bookings via 3rd party bookings.
We are also proud to partner with Rocky Mountain Soap Co. by providing 100% Natural & Toxin Free bath and body products that are good for you, your family, and our environment.
We provide pricing for the exclusive hire of the areas described on this page and also The Cabin (separate web page) which provides additional bedrooms and socialising area along with a full kitchen. . The price for exclusivity includes both suites and all 4 bedrooms and is for a maximum of 12 people. Additional people can be accommodated with the agreement of the owners at an additional price and will include breakfast. The exclusivity booking provides access to the guests staying to all communal areas, bedrooms and use of garden. There is also secure bike/ski storage and heated boot rack in the winter. We, the owners also live at the lodge in private accommodation as does the housekeeper and provide the breakfast in the morning between 8.00am and 10.00am. We are here to help you get the most of your stay at Panorama and monitor the premises for safety and security purposes. 
There is an additional Cabin which  provides a totally separate rental accommodation to the lodge for 6 people with massive socialising area and full kitchen, this area can be rented with addition bedrooms in the lodge if you group is larger. The area also has access to a full commercial kitchen for professional caterers, if rented, in addition to the residential kitchen. Events must be organised with us beforehand as the lodge and Cabin are only for the use of the registered guests.
Enter the lodge to a full guest lounge with ski storage and heated boot and glove rack.
Feature fireplace
Lounge area with television and an assortment of games and jigsaws.
Kitchen with table and chairs and an assortment of games and jigsaws. The kitchen is not a full kitchen, there is a microwave, small counter top oven, BBQ, 2 fridges, dishwasher, sink, kettle, coffee maker and a toaster. Cutlery, plates, glasses and mugs are provided.
Large smart TV with HDMI connection for guests to connect cameras or computer games.
Blue Ray player and DVD library.
The lodge is situated in an acre of wooded grounds with great views of the ski hill, Paradise Basin and Monument Peak The wooded area extends around the property providing a private location with ample parking.The grounds have been landscaped with lawn areas an assortment of trees and Junipers. The private rear garden and Gazebo are used for weddings and corporate functions. The gazebo is a reproduction of a temple at Prince Charles Highgrove House residence and has light, heat and power.
The lodge has full access to the swimming pools, sauna and hot pool complex and other village amenities.
Staying at the lodge allows you full access to the pools complex, hot tubs, and sauna along with the gym.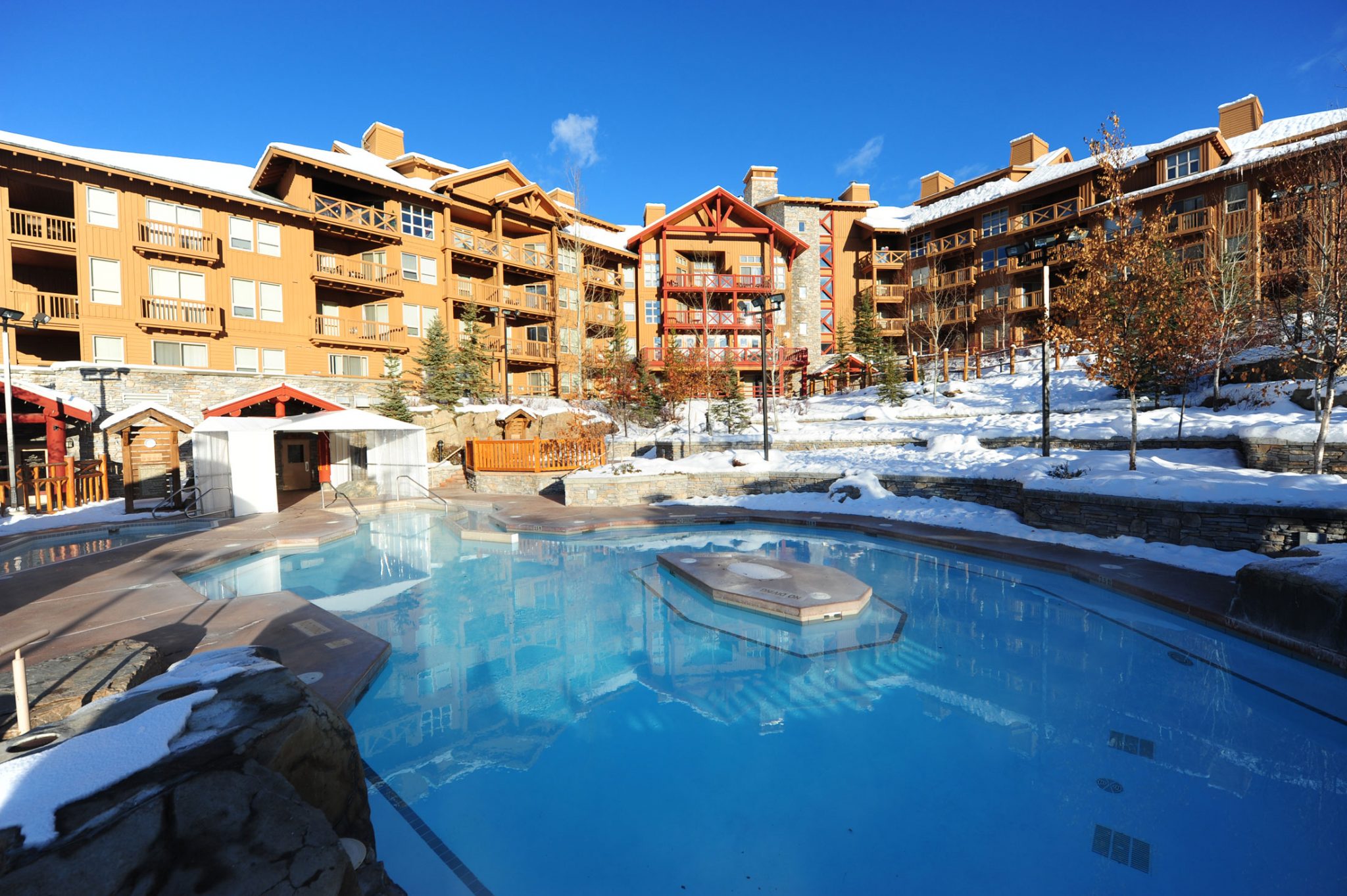 The Top Floor – Is where we serve breakfast and also has direct access to the CABIN private rental.
Ground Floor Plan – The bedroom layout is displayed to show the different configurations available. Both sides are mirror images in layout. Children's playpens/travel cots are available on request.